Defined Perimeter Mattress Cover
Our Defined Perimeter covers are made of breathable nylon, ideal for use with low air loss mattresses. The zippered foam compartments provide easy foam removal when the cover needs laundered. (Call for custom lengths and widths).
These covers offer: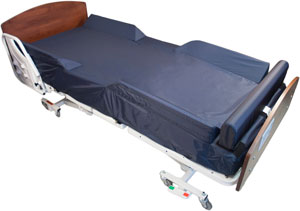 Sides lined with removable foam pieces providing a less confined area for the patient
Machine washable with removal of foam pieces
Removable foot bolster (available with the 35" and 39")
Sheet attachment clips with reinforced backing to promote prolonged use
Easily secured to the bed with quick release buckles
Fits up to a 10" mattress
Application Instructions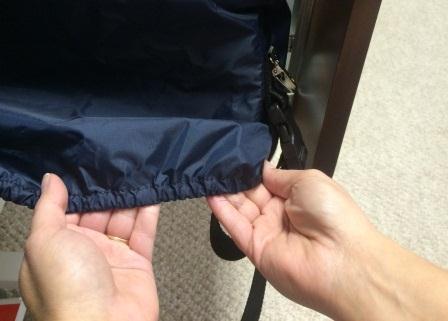 Position the mattress cover over the mattress, making note of the end labeled "FEET."
Thread each of the straps with the quick release buckles through available openings in the perimeter of the movable section of the bed frame.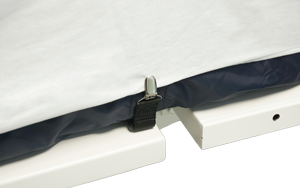 Secure the end of the quick-release buckles and tighten the straps securely. This allows the cover to remain in place as the entire bed, head section, or foot section is raised/lowered. Avoid areas where straps may interfere with the lowering and raising mechanism of the bed.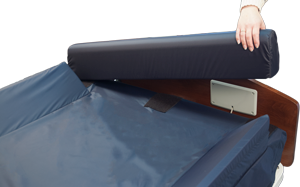 If using a sheet, attach the eight sheet clips, located on the quick- release buckles, to the sheet. If desired, attach the foot bolster to the mattress cover using the attached Velcro.
| | | | | |
| --- | --- | --- | --- | --- |
| Product Number | 300-3580DPC | 300-3980DPC | 300-4280DPC | 300-4880DPC |
| Fits Mattress | 35-36"x80"x10" | 39"x80"x10" | 42"x80"x10" | 48"x80"x10" |
| Foam Density | Medium | Medium | High | High |
| Straps/ Sheet Clips | 8 | 8 | 8 | 8 |
| Removable Bolster | Yes | Yes | No | No |

Cleaning Instructions:

Wipe fluid or other spills immediately from the cover using a mild disinfectant. Air dry.
Machine wash cover only. Remove foam pieces.
Wash lukewarm, no bleach, dry low.
Caution! This product is not a substitute for side rails, patient should be monitored regularly. Product should not be used with patients in physical restraints. Injury or death could occur if patient becomes suspended from mattress surface.

Global Medical Foam, Inc.
is trusted by organizations like: